When you think of Valentine's, what comes to mind? For many, it's some form of chocolate, and in Japan, this is no different. Among the users at Cookpad, Japan's biggest recipe site, one recipe in particular has been drawing views this February. It's also the top choice as the dish people want to try at home, according to a survey that Cookpad conducted. So what's this delectable dish that's been gathering all this attention? It's an easy, no-frills recipe for gateau au chocolat. Here's a look into the oh-so-delicious treat.
Simple, but decadent 
A typical gateau au chocolat (the French term for "chocolate cake") usually involves blending plenty of chocolate into a cake batter that's kept to the bare minimum. Most recipes call for eggs, some oil or butter and a little handful of flour. The chocolate really takes center stage, as there's little that gets in the way of its flavor. Gateaux au chocolat are the ultimate chocolate lover's treat. The richness of flavor is one of the reasons why they've become so popular in Japan, evolving into a classic with a status similar to that of strawberry shortcake.
Make your own with just 2 ingredients 
Among the many recipes for gateau au chocolat, the one that's been immensely popular among Cookpad Japan users is this surprisingly simple 2-ingredient masterpiece:
Rich Chocolate Gateau with 2 Ingredients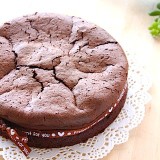 With just two ingredients (yes, you read right — two!!), a gateau au chocolat is quick bake away. There's no need to worry about how much flour to add, because there simple isn't any required. If you're a beginner baker, it doesn't get any easier than this! Why not give it a try this Valentine's Day?
(TEXT: Akiko Takyu)
Related articles: