This is a sponsored post.
Part2: Behind the scenes of Mio Sparkling Sake
In the previous article, "Part 1: Discover sparkling sake, Japan's latest trend," we touched on sparkling sake's success in Japan. However, among the many sparkling sake out there, Mio has gained perhaps the biggest following.
Challenging the prevailing image of sake as a warmed beverage enjoyed in small cups alongside a meal, Mio's bold blue bottle is symbolic of its role in introducing sake to new venues and new generations. Although Mio's subtle sweetness and crisp acidity represents a bold departure from the flavors of more traditional sake varieties, it is nevertheless built entirely on traditional brewing methods that employ only rice, water, and koji with no added sugar. Working with those restrictions in place meant that achieving this was no easy feat.
Produced at the Shirakabegura brewery in eastern Kobe, known for its lengthy string of gold medals at the Annual Japan Sake Awards, Mio is the result of six years of stubborn persistence and countless trials that aimed to produce a flavor that retains a hint of sake's traditionally earthier and savory qualities, while striking just the right balance of sweetness and acidity. The hard work paid off, with Mio becoming the leading sparkling sake both within Japan and overseas.
In addition to being exported to over 30 countries and found in restaurants worldwide, Mio was well received at the 2015 Expo in Milan, and it won a gold award at the International Wine Challenge.
Although delightful on its own as an aperitif, Mio also pairs with a wide range of cuisine. You can find three of our favorites below.
1 "Dishes with Acidic Flavors"
Mio's crisp acidity makes the perfect match for dishes which similarly have an acidic component. Although it is often thought that sake matches only with Japanese food, Mio's uniquely sweet and tart flavor stands up perfectly to western foods such as carpaccio.

Sea bream carpaccio with tangerine sauce
2 "Richly flavored dishes"
Mio's carbonation and acidity help to cut through the oils found in richer seasonings, while its sweetness provides a harmonizing effect.
Deep fried chicken - Tatsuta age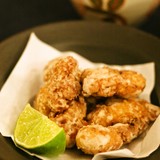 3 "Desserts"
Mio's subtle sweetness and crisp acidity harmonizes perfectly with similarly sweet and tart fruits, just like sangria, or by accompanying other desserts. Sipping a glass of Mio by itself is also a great way to finish the evening!

Fruit punch with Mio
Give your next house party some sparkle with Mio Sparkling Sake!
(PR: Takara Shuzo)
Related articles: