This recipe for Three Color Soboro Don is one of my favorites from my mother.
My mother often made this for my school lunch box and sometimes even served it for dinner. Now that I have a family of my own, I understand why my mother often made this — because its easy and delicious!!
Typically, this recipe uses ground chicken, but my mom added a twist and used ground pork. It might be a little unusual for Japanese people, but I think ground pork has a richer and more full-bodied flavor that I like. You can always change back to ground chicken if that sounds more appealing.
The colors in this dish, along with it being nutritious and tasty, makes it a perfect choice for your family's lunch box. This dish is still delicious even after it gets cold. What more could you ask for!
Here's my recipe for Three Color Soboro Don. Even though I usually make a double batch of this recipe, it still goes very quickly. Expect your family to love this too!
Three Color Soboro Don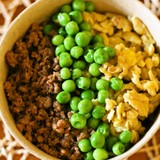 P.S: Try mixing all three of the colors when you have yours!
Related articles: