I posted a deep-fried chicken "Tatsuta" recipe last time. Did you know that a famous burger place in Japan serves a very popular chicken Tatsuta sandwich? It's definitely one of my favorites.
Here's the recipe so you can make your own chicken Tatsuta sandwich at home.
Chicken Tatsuta Sandwich (Japanese Crispy chicken sandwich)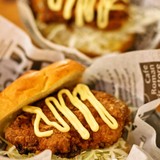 From my experience, using a soft and slightly sweet bun works best. You can use either chicken thigh or breast. I usually use chicken breast for this, maybe because I can slice it better and it has a little less fat, so I don't feel as guilty.
P.S: Don't forget to pile on the sliced cabbage!! I hear cabbage is good for digestion.
Related articles: