In Japan, we often use ponzu as a sauce for many dishes such as hot-pot, tofu, gyoza, salad, hamburg, steak, grilled chicken, pickles, and so much more.
We can buy ponzu at the Asian supermarket or sometimes even the local supermarket, if it has an Asian section but I still prefer to make my own homemade ponzu. I enjoy the fresh taste and I know it has healthy ingredients. As I said in my previous article, it is difficult to get our hands on fresh Yuzu so I use Meyer lemons as a substitute. Meyer lemons have a beautiful fruity scent and are less sour than regular lemons (Meyers lemons are a cross between lemons and oranges). We can make a delicious homemade ponzu using meyer lemons.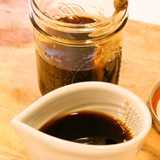 You can add 1/2 to 1 Tablespoon of olive oil to 2 Tablespoons of homemade Ponzu, mix well and you have a nice refreshing salad dressing!
Related articles: