Thanksgiving, one of America's favorite holidays, is coming up in a few days. Markets are crazy busy, Turkeys are filling the fridge, big family-size packages of veggies are piled high, samples are distributed, and the smell of Thanksgiving is finally in the air!!
Every year, I roast a lot of turkeys while teaching my Thanksgiving dinner lessons, sometimes to the point where I feel more stuffed than the turkeys. However, when it's finally Thanksgiving, I'm more than ready again for a few servings! Here's a look at my turkey (which turned out beautifully) and table settings from last year.
As much as I love turkey dinner, my favorite part of Thanksgiving is the leftovers. I know I'm not the only one looking forward to leftover turkey dinner sandwiches! It's no exaggeration to say that in our house we calculate how big we need our turkey to be according to the number of sandwiches we want to make later on. The secret behind such delicious sandwiches? Adding some international flavor with Japanese mayonnaise!!
In my opinion, Japanese mayonnaise has more flavor than the American versions, so it's a helpful condiment to have around in your kitchen. After years of enjoying leftover sandwiches together, my husband's family now all love Japanese mayo, too. Try it, you'll love it!!
Just pile your favorite leftovers on slices of toast,
then, dress it with gravy sauce and Japanese mayo on top.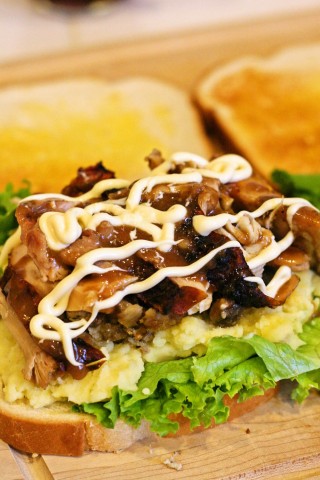 Ta-dah!
Here's my version of the delicious Thanksgiving leftover turkey sandwich. Just thinking about these makes my mouth water. More reasons to be excited for Thanksgiving!  Well… actually, the day after Thanksgiving!
Related articles: