There are many fried chicken recipes in Japan, but I think this Tatsuta age is one of my favorites. It has a delicious hint of ginger to it.
Deep fried chicken - Tatsuta age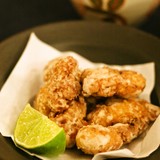 The chicken is seasoned in soy-sauce marinade and when fried, its color becomes the tone of red leaves. This reminds people of red leaves floating on the Tatsuta-gawa River. It's the perfect recipe for the foliage season!
To create the feeling of fall, I serve the chicken on a dining table set with foliage-inspired decor.
Chopstick rests shaped like Japanese maple leaves
Paper patterned with Japanese maple leaves
I hope you give my Tatsuta age recipe a try! I've also added some tips in the recipe, to make it easier for anyone to make at home. It's very, very delicious!! I guarantee you will be amazed.
Related articles: