Here comes one of the kids' favorite times of the year, Halloween. So here is an idea: how about trying these chic Japanese Halloween table setting ideas to join in on the fun?
Using Japanese lanterns, mini pumpkins, black tablecloth, black napkins and black placemats gives this Halloween table a Japanese look. Japanese styled black trays were used for placemats here but any simple looking black placemats will do.  My favorite part is using the Japanese lanterns for chopstick rests (hashioki). Aren't they cool?

For the centerpiece, I placed orange and purple flowers in a black Japanese bowl made by one of my favorite Japanese ceramic artists.  You don't have to use a vase — just use anything black that looks creative.  I used a flower pinholder to hold the flowers in place but be careful as the flower pinholder is heavy and can chip your bowl.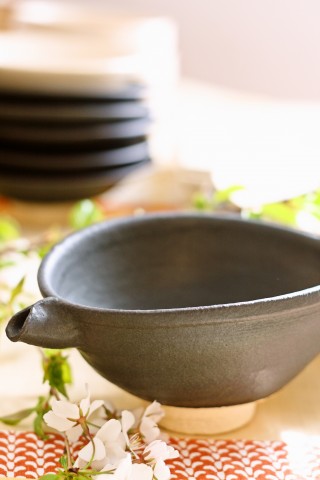 You can carve out the mini pumpkins and place tea candles inside them to give your dinner table even more of a Halloween atmosphere.
My suggestion is to keep the colors primarily black and orange, but you can add a splash of purple to give it a more sophisticated look. Try to use simple-looking items; otherwise, it might look a bit tacky.
I hope this makes you want to try something new for Halloween this year!
Related articles: